Discovery Benefits
In 2018, Discovery Benefits will begin managing the Health Savings Accounts (HSAs) and Flexible Spending Accounts (FSAs) for Windstream employees. This means that if you enroll in an HSA or FSA account for 2018, you will receive a new debit card and account with Discovery Benefits.
Through Discovery Benefits, you can continue to take advantage of the savings offered by using tax-free money to pay your eligible health and dependent care expenses. The following accounts are available to you in 2018.
$600 tax-free to your HSA if you enroll in a medical plan for 2018. Windstream's contribution will be deposited over the course of the year (per pay period) and will be prorated for those starting medical coverage after Jan. 1, 2018, or for those who end coverage before Dec. 31, 2018.
Make individual contributions. In 2018, the limits on total contributions to your account (from both you and Windstream) are:
Up to $3,450 for employee-only coverage (including $600 Windstream contribution).
Up to $6,900 for family coverage (including $600 Windstream contribution).
If you are age 55 or older, you may contribute an additional $1,000.
Never pay taxes. Contributions are made from your paycheck on a before-tax basis, and the money will never be taxed when used for eligible expenses.*
It is your money. Unused money can be carried over each year and invested for the future – with the potential to gain interest or earnings tax-free – you can even take it with you if you leave Windstream.
Your Bank Account. If you have an existing account with Optum or another HSA bank, you will continue to use your account and submit claims as you do now through Dec. 31, 2017.
* Money in an HSA can be withdrawn tax-free as long as it is used to pay for qualified health-related expenses. If money is used for ineligible expenses, you will pay ordinary income tax on the amount withdrawn, plus a 20% penalty tax if you withdraw the money before age 65.
If you are moving from a Health Care FSA to an HSA, you will need to incur all claims for FSA dollars by Dec. 31, 2017, or forfeit the remaining balance.
Terms you need to know
Medical Flexible Spending Account – A Flexible Spending Account (FSA) is a special account you put money into that you use to pay for certain out-of-pocket health care costs. You don't have to pay taxes on this money. Except for a small annual carry-over, you must use all of the funds during the calendar year.
Health Savings Account – A health savings account (HSA) is a tax-advantaged medical savings account available to taxpayers in the United States who are enrolled in a high-deductible health plan (HDHP) as defined by the IRS. The funds contributed to an account are not subject to federal income tax at the time of deposit, can rollover from year to year, and are available to use on qualified medical expenses up to the amount contributed into the account.
Opening an HSA Account
When you enroll, you can authorize Windstream to establish a Health Savings Account on your behalf. You'll be prompted to affirm the set-up of a health saving account during your online Annual Enrollment session when making your medical election. You will receive an HSA debit card for payment convenience, and Windstream will pay the monthly account fee for active employees. It's your money and you decide how you want to spend it.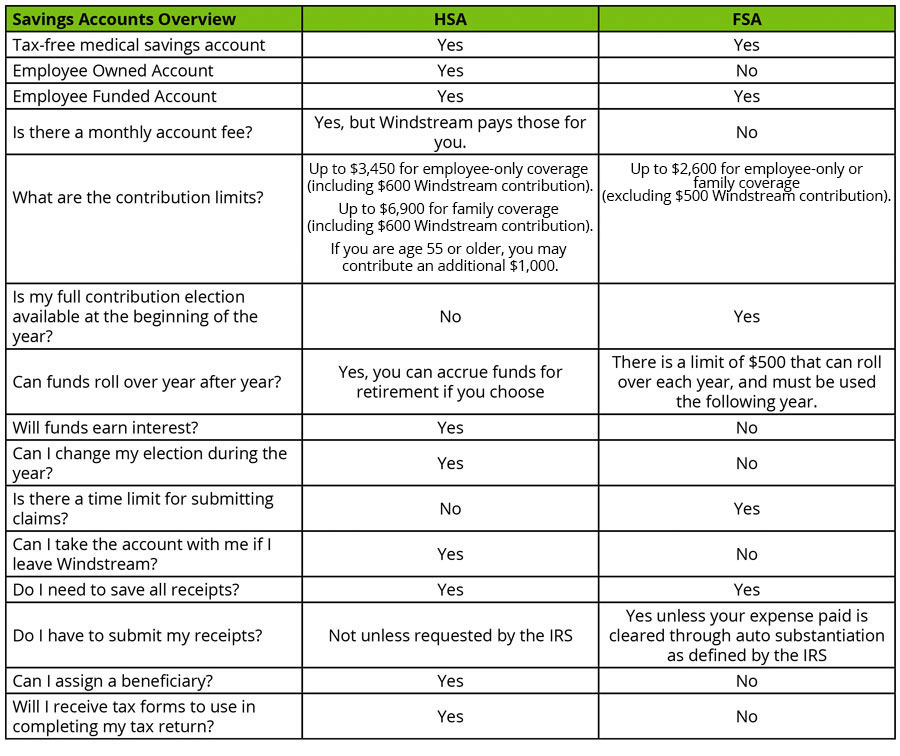 You choose whether the Health Savings Account is right for you
These plans are designed and governed by federal regulations. You cannot contribute to the health savings account if:
You are enrolled in Medicare (any part), TRICARE or TRICARE for Life
You are claimed as a dependent on someone else's tax return
You are covered by a Full Medical Flexible Spending Account, or
You are covered by any other health plan that is not a federally qualified, high deductible plan.
Manage Your HSA Through Your Mercer Benefits Page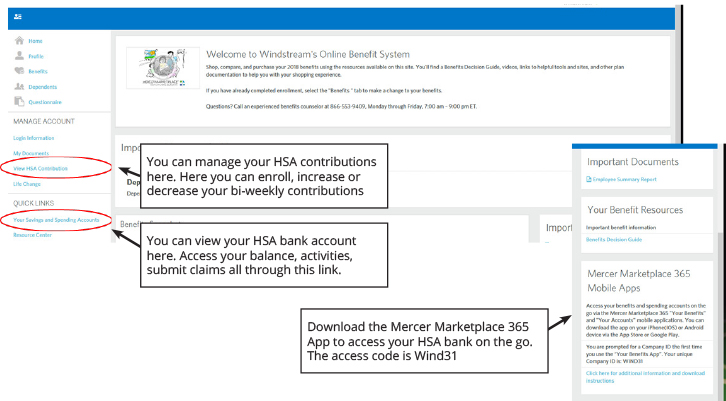 Helpful Links
Participant Services Phone: 877-248-0510 (M-F 7 am to 10 pm EST)
Claims Processing Phone: 855-717-6571