[dt_sc_button title="2018 Medical" size="xlarge" textcolor="#ffffff" bgcolor="#7dba00″ css=".vc_custom_1534360180263{background-color: #7dba00 !important;}" link="url:%23medical|||"]
[dt_sc_button title="2018 Vision" size="xlarge" link="url:%23vision|||" bgcolor="#f37342″ textcolor="#ffffff" css=".vc_custom_1534360152790{background-color: #f37342 !important;}"]
[dt_sc_button title="2018 Dental" size="xlarge" link="url:%23dental|||" bgcolor="#0b70b9″ textcolor="#ffffff"]
2018 Medical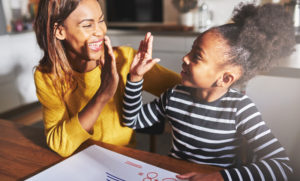 For 2018, you will have four high-deductible health plan options that all offer access to a Health Savings Account (HSA) for tax-free health care spending. If you are not eligible to open an HSA, or choose not to, you may enroll in a Health Care Flexible Spending Account (FSA) instead.
Higher HSA company contribution! Windstream has increased the company contribution to your HSA for 2018 – you will receive $600 deposited in prorated, tax-free amounts each pay period. If you are unable to enroll in an HSA, you will receive a $500 tax-free contribution to a Health Care FSA account.
Compared to the 2017 Windstream medical plan options, these plans are similar in design but offer you additional choice of carriers and cost.
What is included?
All of Windstream's medical plans include:
Your choice of carriers. Blue Cross Blue Shield (BCBS) or UMR. In each state, one carrier will have a lower cost than the other. This represents the larger discount that doctors and facilities have with one carrier over the other in a given state. The plan features with each carrier are the same.
Prescription drug coverage. Coverage for prescription medications comes with each plan and is provided by Express Scripts.
Free in-network preventive care. Services like annual physicals, immunizations and routine cancer screenings are fully covered at 100%. That means you pay nothing.
Annual deductible. You pay for initial medical and prescription drug costs until you meet your annual deductible.
Coinsurance. After meeting your deductible, you pay a small percentage of eligible costs through coinsurance, then the plan pays the rest.
Keep in mind: With the $1,850 Deductible Plan, coinsurance for any person covered under an employee plus dependent plan begins only after the entire family deductible has been met.
Tax-saving opportunity. If eligible, you can contribute to an HSA on a before-tax basis to help pay for your eligible out-of-pocket health care costs – in 2018 or in the future. Your HSA funds roll over year after year; they are always yours to keep! And, Windstream will contribute up to $600 tax-free to your HSA, deposited over the course of the year (per pay period). If you enroll in a high-deductible health plan and you do not meet the HSA eligibility requirements, or choose not to enroll in one, Windstream will contribute up to $500 tax-free to a Health Care FSA. The IRS limits employer contributions to a Health Care FSA to $500.
Out-of-pocket maximum. Each plan protects you by capping the total amount you will pay each year for medical care. Once you meet your out-of-pocket maximum, the plan pays 100% of your eligible expenses for the rest of the year. Medical premiums are not included in the out-of-pocket maximum.
Health advocacy. Get free, personalized assistance to help you navigate the health care system, from understanding claims to choosing providers and negotiating fees. Available to you and your family members effective Jan. 1, 2018, this service can save you time and money.
Compare the plans
All plans are offered through your choice of Blue Cross Blue Shield or UMR. In each state, one carrier has a lower cost than the other, referred to as Carrier 1. This represents the larger discount that doctors and facilities have with one carrier over the other in a state. No matter which Windstream medical plan you choose, the benefits covered by each option are the same. All plans cover in-network preventive care such as blood pressure and cholesterol tests, mammograms, colonoscopies, screenings for osteoporosis, vaccines and well-woman visits — all at no cost to you! Be sure to follow the recommended age guidelines outlined in the medical summary plan description when scheduling your preventive care.

Compare Your Costs

---
2018 Vision
VSP
You will have the choice of two vision plans through VSP – a Materials Only Plan and an Enhanced Plan. To search for providers in the VSP network, go to vsp.com. Spectera will not be offered in 2018.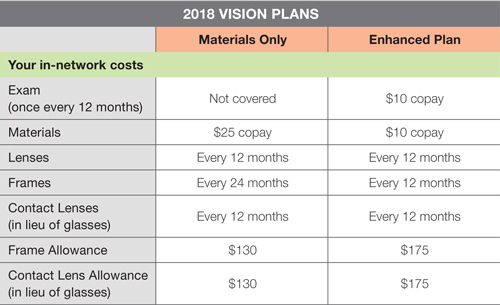 The Materials Only Plan does not provide coverage for exams.
As the name implies, the Materials Only plan covers lenses and frames only.

---
2018 Dental
The Windstream dental plan, provided by Delta Dental of Arkansas, offers three coverage options for you to choose from. All options allow you to receive care from any dental provider and cover preventive, basic and major restorative charges (the enhanced option also covers orthodontic charges) according to a co-insurance payment schedule.
If you choose an in-network provider, your claims will be filed automatically by the provider. When you use a non-network provider, your claim will typically be filed by your provider; but if not, you will need to file your claim directly with Delta Dental of Arkansas.
Dental Rates Per Pay Period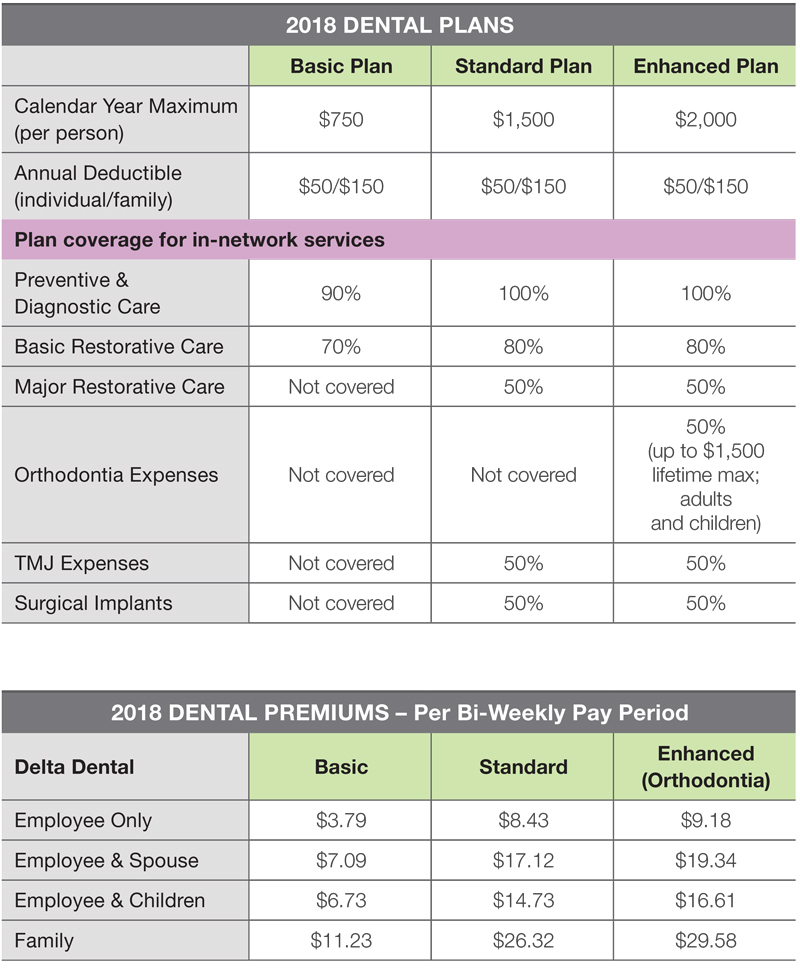 Delta Dental of Arkansas administers claims processing for the Windstream dental plan. You may find out more about the plan, in-network providers and claims processing by calling Delta Dental at 800.462.5410 or online at deltadentalar.com.