How to Retire and Start your Pension
Do you have a Windstream Pension Benefit?
Certain employees participate in the Windstream Pension Plan. Under the terms of this plan, if age and service requirements are met, participants may retire and elect to start receiving their pension.
For details, review your Summary Plan Description available on www.windstreambenefits.com and on the Merrill Lynch Benefits-On Line Document Library.
Am I Eligible for Retirement?
Windstream defines retirement eligibility based on the following conditions:
Age 65+ – Normal Retirement is age 65 with minimum of 5 years of service.
Age 55 with 20 years of service – Early Retirement is age 55 with at least 20 Vesting Years of Service
Age 60 with 15 years of service – Early Retirement is age 60 with at least 15 Vesting Years of Service
Special Provisions – If you are covered by special plan provisions covered by a collective bargaining agreement or a prior plan that merged into the Windstream Pension Plan your age and service eligibility requirements may be different than listed above.
Review the Summary Plan Descriptions (SPD's) to determine your specific retirement eligibility.
Who Do I Need to Notify if I Plan to Retire?
Notify your Windstream Human Resources Business Partner of your intent to retire at least 30 days before your last day of work.   Notify your Manager or Supervisor of your intent to retire and schedule your last date of employment.
When to APPLY for Your Pension
Request a pension application package as early as 180 days before your pension commencement date and no later than 30 days before your pension commencement date.
In order for a pension package to be considered legal, it must be mailed to you before your pension commencement date (but no earlier than 6 months prior).
You will have 180 days from the date of your Pension Package to make your election.
How to APPLY for Your Pension
Request a pension application or pension estimate from the Merrill Lynch Call Center.
Go to www.benefits.ml.com or call Merrill Lynch at 1-800-228-4015
Below are instructions on how to generate a self-service pension estimate through Merrill Lynch's Benefits On-Line system.
Log onto www.benefits.ml.com
From My Accounts
Select> Windstream Pension Plan
Select> Benefits Calculation
Select> Calculate Benefits
Enter a "Name" for your calculation
Enter your estimated Termination date or Last Day of employment
Enter your estimated Pension Start Date (normally the 1st day of the month after your Termination Date)
Enter Spouse Birth Date (if married)
Enter your annual pay or enter $0
Select> Continue, to view the calculation results
View your "Summary of Estimated Future Benefits"
Select "Print friendly version" and print calculation results for your records
Select the "SUBMIT PAPERWORK REQUEST" button to request a Pension Package to be mailed to your home address with 7-10 business days.
Timing of your 1st Pension Payment
Your first pension check should be received approximately 2 months after your termination date.  It will include all amounts due dating from your commencement date.
This first check may be delayed beyond 2 months if you do not submit all the requested forms and documents to Merrill Lynch.  Subsequent payments will be sent to you on the first of each month.
Pension Toolkit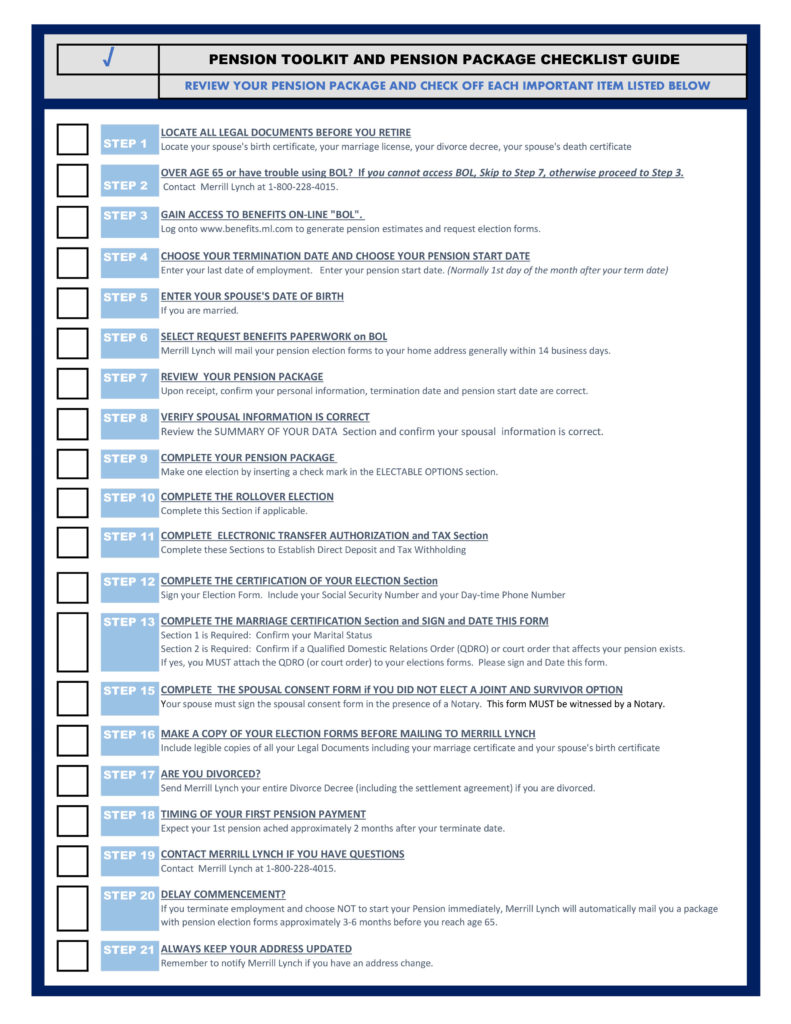 Impact of February 25, 2019, Bankruptcy Filing
The Internal Revenue Code imposes restrictions on the way benefits are paid from the Pension Plan while in bankruptcy. Beginning February 25, 2019, the date of the company's Chapter 11 filing, certain forms of payment cannot be made, including:
Lump-sums other than payments of $5,000 or less;
Social Security level income payments;
10-year certain payments;
Lump sum death benefits other than payments of $5,000 or less; and
Employee contribution refunds.
These restrictions have been imposed as a result of the Chapter 11 filing and because the Plan is less than 100% funded, as certified by the Plan's actuary. The restrictions will be lifted if the Plan improves to 100% funded, as certified by the Plan's actuary, or when Windstream emerges from Chapter 11. If the Pension Plan is terminated as part of a distress termination in bankruptcy, lump-sum payments and certain other forms of payment will not be available again.
While these restrictions are in place, if you commence receiving your Pension benefit, you may choose the annuity forms of payment available to you.  Please see the FAQ for further information.